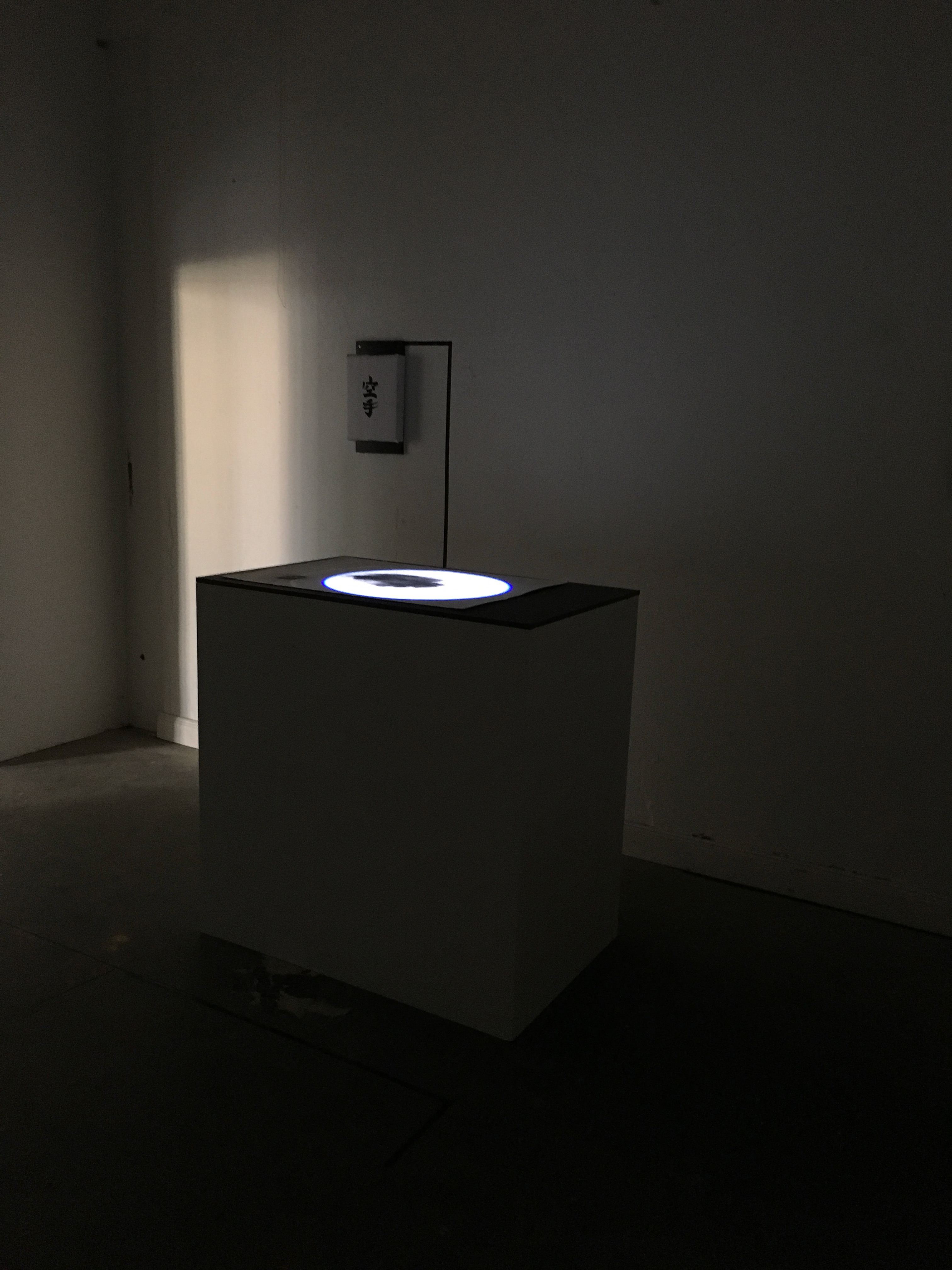 TATORT II
group exhibition of resident artists Kraftwerk Bille, 2018
Versagensbereite Herzen — Jeder ist 1 Volk
mixed media installation, variable measures
In context of the general exhibition title TATORT II ("crime scene II") I referred to the in 2018 topical Chemnitz protests initiated by various far right-wing parties and rioters as a reaction to a private law incident concerning "several people of various nationalities".
The spot lies on a blurry Chemnitz shaped drawing with a glass plane on it, carrying vulcanic sand in the exact city shape leaving no possibility of reflection: scorched earth. Also underneath the drawing the black sand builts the basement. Easily this sand and it's dust can spread – unintended or on purpose. And quartz sand filled gloves (!) were found among rioters of the protests. Besides the Chemnitz silhouette there is another outline visible, showing the shape of the city of Klöthen, where briefly after the Chemnitz protests xenophobic activities rapidly were evoked, again as a response to a privat law instance.
The embossed "Jeder ist 1 Volk" refers at first sight to the choral claim "Wir sind das Volk" of the peaceful revolution of 1989 (Chemnitz was part of the German Democratic Republic and named Karl-Marx-Stadt. A sketch of the Karl Marx monument still located in Chemnitz is also shown within the drawing.) But the quote originates from the German director, filmmaker and performance artist
Christoph Schlingensief
(. In 1998 in the run-up to the Bundestag elections Schlingensief created the campaing CHANCE 2000 and asked everyone in Germany to vote for oneself! (Which made me actually end up as a proud direct candidate on the ballot by the way.)
With the word creation "versagensbereite Herzen" (roughly "hearts ready to fail") I want to describe the consciously tolerated crossing of an appropriate line of freedom of expression within the protests – as well through rioters as supporters throughout local parties and parts of the population. And the state of not being willing to open ones heart to other people.
Finally there is a wall mounted "makiwara" - a training tool in various martial arts styles – for interaction (go ahead and release!) connected to the main part with rectangularly arranged tape stripes.